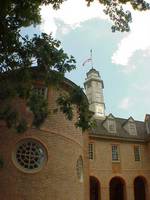 Here's another view of the Williamsburg Assembly Hall.
Uploaded by Hello!
I am testing Blogger's new photo hosting service Hello. The previous images were posted with
Flickr
I notice that Hello provides larger thumbnails than Flickr. However, I like Flickr's format much better with the post message aligned to the right of the image, title and caption.
Check out the rest of my
Williamsburg
images!