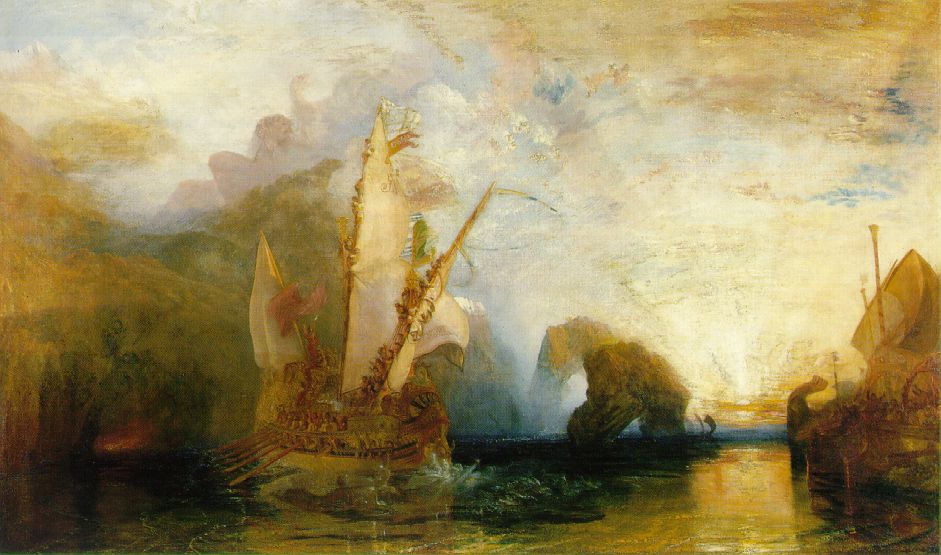 Tuesday, April 11, 2006:
Today, we walked over to the Tate Britain and toured the wing devoted to one of our ancestors, JMW Turner. He paints mostly landscapes juxtaposing ancient ruins with contemporary country scenes or sea themes such as this work entitled " Ulysses deriding Polyphemus" in the style termed Romanticism which I find a little on the surreal side.

"Looking at Turner's pictures of the yellow dawn or the red of sunset, one is aware, perhaps for the first time in art, of the isolation of colour in itself. Even his sea-pieces contain flecks of bright unmodulated colour that enliven their at first sight more monochromatic treatment. To extract from the continuous range of light the purity of yellow, blue or red, the hues that command and comprise the rest, required an uncompromising integrity of vision. Turner had precisely 'the disposition to abstractions, to generalizing and classification' that Reynolds regarded as the great glory of the human mind, though in a form that Reynolds would hardly have recognised. Quite early in Turner's career his pictures were already accounted 'among the vagaries of a powerful genius rather than among the representations of nature'." - The ArtArchive

Often called "the painter of light" (and you thought that was Thomas Kinkade!) or the great pyrotechnist, Turner painted over 20,000 paintings over the course of his life. He exhibited his first work in the Royal Academy at the tender age of only 16 and was given full membership by the time he was 27.

Then we toured the work of British historical artists (much more my cup of tea). I saw the famous Lady of Shallot and works by famous portrait artists like George Romney. I also was introduced to works by John Everett Millais who is now on my favorites list. His statue graces the courtyard outside the Tate and I can see why!

Tomorrow its back to Heathrow and an 11 hour flight home over Iceland, Greenland, Hudson's Bay and beyond. It's going to be hard to pull myself back to the present after two weeks of immersion in another time and another place!

Forgive me if I use phrases you may not understand when I get back. I've learned that potato chips are called crisps and french fries are called chips. A baked potato is referred to as a "jacket" potato". Egg salad is called Egg Mayonnaise and often includes sprigs of watercress but if you want lettuce, tomato, etc. on your sandwich you say you want it with salad. However, if you order an egg and watercress sandwich, you get boiled egg and cress dry with no dressing at all. Salad here is often served with no dressing at all or only a hint of vinaigrette and Americans (including me) are notorious for wanting lots of ice with their beverages (usually they're served with no ice at all!)

I've learned that you won't find any "rubbish" bins in a train station so you have to carry your trash around with you until you can emerge from the underground and find a trash can. (security reasons). On our first trip out and about, we wandered around endlessly in Victoria station trying to find a trash can to dispose of our breakfast napkins until we finally asked a passerby. We thought we just didn't know what they looked like. I've learned that a mailbox here is referred to as a box but is in actuality a round red can-shaped receptacle. I've learned that if something is in good condition you say it is in "pretty good nick." And most importantly, I've learned when you need to go to the restroom you need to "pop the lu".